Shopping Cart
Your Cart is Empty
Thank you for your business!
You should be receiving an order confirmation from Paypal shortly.
Exit Shopping Cart
- 29-05-2011: Two Hazara constable Momineens Martyred and Four Injured
Today early morning in Quetta at Spini Road, in front of Al-Nasir Matan Shop, unknown motorcycle riders opened fire on Hazara police constables momineens, Ishaq and Musa when they were returning home after their duties and were martyred on the spot. The terrorist also targeted a Taxi coming behind the two policeman which was carrying some other Hazara momineens. Four Hazara Momineens in the Taxi including a woman and a child were injured. The bodies of the Martyrs and injured were shifted to Bolan Medical College for treatment.
It is to note that in less than Four weeks this is the third deadliest attack on our Hazara Momineens in which more than Thirteen have been martyred and around fifteen have been injured. So far none of the Terrorists have been arrested by the Government which have given them the opportunity of killing more Hazara momineens in the City of Quetta. In addition, no satisfactory security arrangements have been made by the Hazara Momineens either to stop this violence.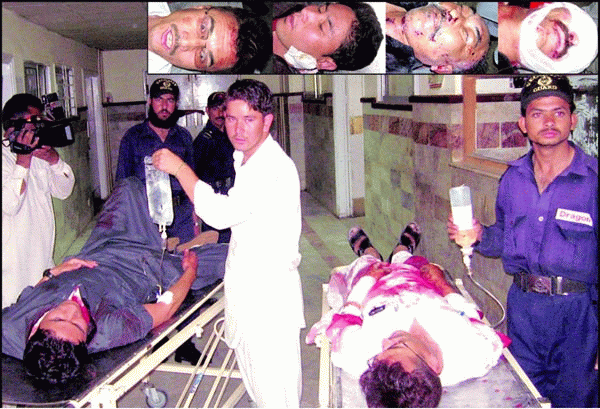 - 18-05-2011: Six Hazara Momineens have been martyred at Killi Kamalo near Hazar Ganji Quetta

The gang of terrorists killed 6 Hazara mominin today at Killi Kamalo near Hazar Ganji Quetta.

Today at around 10:30 am PST unknown gunmen sprayed bullets on mominin who were coming back from the main marketi after purchasing vegetables for their shop.

Ten people were coming on a pickup when the terrorists opened fire on them with AK47. Six of them embraced shahadah on the spot while 4 are injured in which 2 are in serious condition.

This is the second incident occuring on this route.On 28 September 2010 targeted the mominin when they were buying vegetables from the main market. In that incident two Hazara mominin embraced shahadah.

The names of the martyrs are Ghulam Nabi, Qurban Ali, Muhammad Hanif, Haji Juma Khan, Ishaq Ali and Ali Ahmed. Among the injured Rashed Ahmed, Muhammad Qasim, Muhammad Ali, Jan Ali and Yar Muhammad.

The security forces once again failed to provide security to the people of the city.About two weeks before these terrorist hit Hazara Town graveyard in which 6 mominin embraced Shahada. No one has been arrested on this account and the result is that they again martyred Six innocent people. (Source alamdarroad.com)

-10-05-2011: Ali Juma reached to the status of Martyrdom

According to the alamdarroad.com, Ali Juma embraced shahada today at CMH Quetta cantt. He received injuries in Hazara Town graveyard incident.

Ali Juma who had been injured in the Hazara Town graveyard incident embraced shahada today at CMH Quetta cantt. He received bullet injury in his neck.He was in ICU since that day.

In the incident unknown gunmen fired rockets and sprayed bullets at the people who have come for fateha at the graveyard. Five people embraced shahada on the spot while about 14 people were injured.

- 06-05-2011: Five Hazara Momeenins have been Martyred and 12 Injured in Hazara town.

It is reported that Today around 6:30am terrorists on two separate motor cars attacked on our Hazara brothers in Borrori. Around 5 people have been martyred so and at least 12 are injured. The Terrorists attacked with three rocket launchers followed by firing using guns. The injureds have been admitted at CMH Hospital and BMC and the martyrs have been buried in Hazara Town Qabristan.

The name of the martyrs are Ghulam Sakhi, Haji Muhammad Ismail,Qurban Ali, Jan Ali and Haji Muhammad Ibrahim. A mother of one of a Shaheed died of heart attack when she saw her son's dead body, her name Halima Bibi. The funeral of the martyrs will took place today at the Hazara graveyard Hazara town Bewrori.

- 05-05-2011: Ghulam Rasool the injured of Al-Quds Rally has eventually embraced Shahadat.

According to Alamadarroad.com, Ghulam Rasool S/O Ibrahim embraced shahada in Karachi, where he was under treatment for the last six months.

Ghulam Rasool who was injured in suicide attack at Quds rally on Meezan Chowk Quetta on 3 Sept 2010. Since then he was under treatment in Karachi.

Today succumbed to his injuries and went for eternal peace.His body will reach Quetta today at any time.

Latest News:06-11-2015: A Shia Momin martyred and one Injured in another terrorist attack 07-11-2015: Two Hazara Shia Momineen were martyred at Ispini Road Quetta 03-11-2015: A Shia Momin Sadiq Ali was Martyred on Jan Muhammad Road in Quetta 06-07-2015: Three people martyred and two others injured in another terrorist attack 01-07-2015: 3 Shia momineen welders martyrd on Sarki Road 07-06-2015: Five Shia Momineen Martyred in another terrorists attack on Circular Road Quetta 27-05-2015: Two Shia Momineen were martyred on Meconogey road near Meezan Chowk 25-05-2015: Three Hazara Momineen martyred in two different attacks on the same day.... For Past news please visit the "News Corner" section of the website...

The Foundation Branches:

Takreem e Shuhdah Foundation Quetta (Pakistan, Registration No.: EDO / QD - 170)

Takreem e Shuhdah Foundation Limited (Australia, ABN No.: 20 167 912 003 )

- Takreem e Shuhdah Foundation funding Statistics:

Last updated on 5th November 2015:

Funds received = Rs. 8,030,230.38

Funds donated = Rs. 5,533,092.16

Takreem e Shuhdah Foundation was established on 8th November, 2009.

Total Number of Families currently suporting: 21

No. of Martyrs families: 12

No. of Non Martyrs Deserving family: 8

Numbers of families finished supporting: 4

Extra:

Number of Operations financial supported: 6

Number of Families became financially independent: 3

One time donation to families/person: 6

Please make donations to this account:

Account in Quetta:

Account Name: Takreem Shohda Foundation

Account No.: 01840100000583

Askari Bank Alamdar Road Branch Quetta.

For International Transfer please use the following International Bank Account Number(IBAN) details:

IBAN: PK15A5CM0001840100000583

Account in Australia:

Account name: Takreem e Shuhdah Foundation Limited

BSB No.: 06 3104

Account Number: 1051 3021

Bank: Commonwealth Bank of Australia

SWIFT CODE OR BIC No.: ctbaau2s (For international transfer)

For all those who are living abroad, if you want to donate us please email us at [email protected] and we will advise you accordingly how you can donate.

Also Please also join our facebook page and support the Foundation in any possible way you can:

Takreem e Shuhdah Foundation facebook page

Takreem e Shuhdah Foundation's Facebook Page

0

/